Something you might not know about me: I was a vegetarian for several years — and I still eat a 90% plant-based diet.
And like many people, the pandemic has inspired me to revisit my cooking habits, meal planning, and diet. More and more people are giving meat-free and plant-based foods a chance. Sales of meatless meats are up 35% since the pandemic began. And 23% more Americans say they're eating more plant-based foods.
I, of course, am totally excited about this trend. Cooking is a major passion for me, and learning to prepare plant-based meals has grown my kitchen creativity. I'm also excited about it for financial reasons:
Plant-based diets can be a more cost-effective way to feed humans — both on a micro and macro level.
(FYI, by "plant-based diet" I'm referring to foods and meals that exclude animal meat or byproducts including dairy, eggs, and honey.)
The cost of a plant-based diet vs. traditional diet
Like most diets, your costs will depend on the specific meals you plan, the ingredients they call for, as well as the food brands or types you choose. And adding plant-based meals into your cooking skill set can actually help you discover low-cost ingredients and flexible meal planning that can help lower overall food costs.
Putting together cheap and affordable meals without animal products is not only doable — it's the norm for people on these diets.
| | | |
| --- | --- | --- |
| Diet | Vegan diet | Conventional USDA-recommended diet |
| Annual cost per person | $3,144 | $3,686 |
Source: Finder.com, "The cost of different diets." February 2019
According to the info above, a vegan diet that excludes all animal products saves about $540 per year — or around $45 per person each month. Here's a look at what other studies say about the costs of plant-based vs. conventional diets:
A plant-based diet saves $750 a year per person when following federal nutritional guidelines, found a 2015 study published in the Journal of Hunger & Environmental Nutrition. That's a savings of $62.50 per person, per month.
Vegetarians and vegans spend $1 less per meal than those who eat meat, according to an online survey from Sous Vide Guy. That averages to $23 per week, $99 per month, or $1,196 a year. 
Where you live and what's on your grocery list can definitely impact your costs. A price comparison of two similar grocery lists including 7 staples found that the plant-based items cost about $6 more, per Money Under 30. A similar cost survey from Joybird of a grocery list of 10 staples found that the vegan options cost more in every state by at least $9, and how much more it costs varied from state to state.
My takeaway: When looking at food items 1:1, eating plant-based can cost more. But when you look at an entire diet, it becomes easier to tweak here and there to keep costs low.
And that's just the price difference for now. Even in the past 10 years, I've noticed a wider selection in both plant-based options and prices. And as more people turn to plant-based foods, this industry will continue innovating and scaling to lower costs. (Impossible, for example, has said its ultimate goal is to match and eventually beat the price of conventional beef.)
My current monthly plant-centered diet costs: $165 per person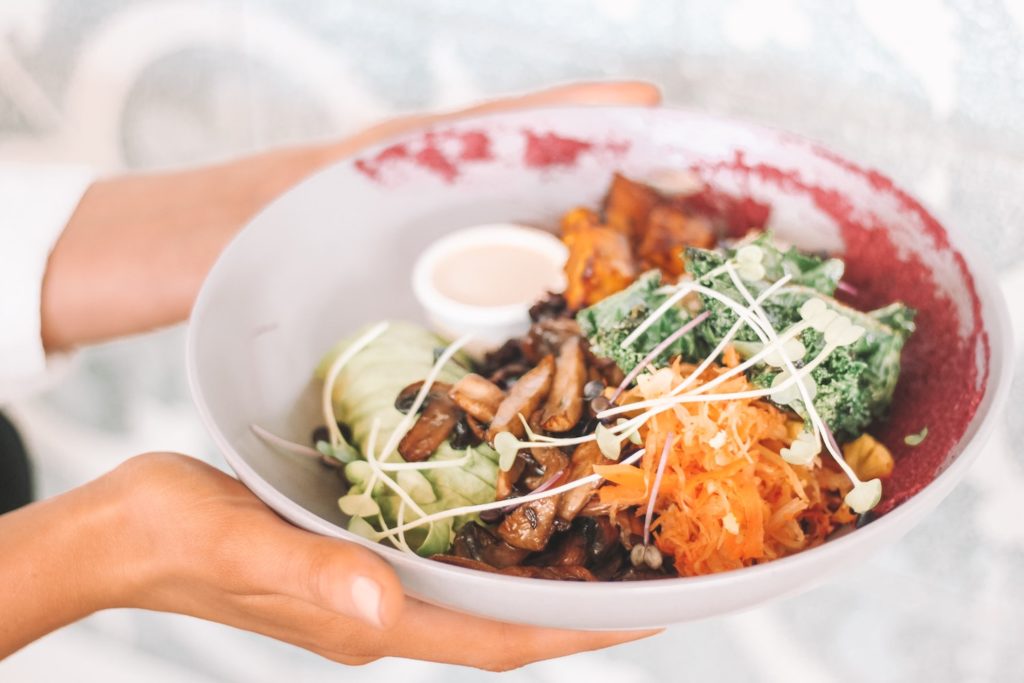 Note: I don't claim to be a vegetarian or vegan, as I do purchase and occasionally consume animal products. But I have been eating a primarily meat-free and plant-centered diet for the past 10 years.
I currently eat mostly plant-based, but consider things like each person's nutritional needs, food sensitivities, and preferences — while keeping our costs reasonable. About 90% of the meals I make for me and my spouse Moozh are plant-based. And our grocery costs are still fairly reasonable: we spend around $650-750 a month on at-home food for our family of four, or about $175 per person.
Ultimately, though, I'm not a purist when it comes to food. I still buy and eat animal products here and there. I have a bit of an emotional dependence on butter-stuffed croissants and the rare order of buffalo wings. And my kids are still in the picky-eater age, meaning I rely on some animal products to plan school lunches and other meals..
Any positive change or improvement is worth making — no matter how small. I don't have to be perfectly vegan to have an impact with my personal choices.
Changes to habits and lifestyle are more likely to stick and be sustainable when we take a slow-growing and flexible approach. For me, this means I don't see myself being a strict vegetarian or vegan in the future. But I expect to eat an increasingly plant-based diet for the rest of my life, without an overly restrictive or absolutist approach.
5 Reasons to eat more meat-free or plant-based meals
Lower your food costs. It's always important to price-compare and shop for good deals. But planning meals that feature cheaper plant-based alternatives and leaving out meat, dairy, or eggs in more meals can help lower your grocery bill.
Improve your cooking skills. Learning to cook plant-based meals has helped me be more flexible with my meal planning and cooking. I don't default to meat or dairy, which can be costly, simply because it's what I'm familiar with. I can instead put meals together that include cheaper plant-based options like beans over ground beef, or nutritional yeast over cheese.
Eat in line with your religious or ethical beliefs. Some religions have dietary guidelines that exclude some types of meat, or can make it expensive to eat meat or dairy products — such as eating kosher. Additionally, eating less meat and fewer animal byproducts like eggs and dairy means feeding ourselves with less cruelty to animals. It also means investing our dollars in food systems that are more sustainable, environmentally friendly, and able to feed more people.
Get more nutritional bang for your buck. I get that not everyone can or should eliminate animal products from their diet. But eating more plant-based meals can be an effective way to add more vegetables, fruit, legumes, nuts and seeds, whole grains, and other nutritious foods to our diet. It also has given me a chance to update my nutritional knowledge and improve how I plan meals so that they're more balanced
Accommodate health needs and sensitivities. In my family of four, two people are allergic to dairy and one is allergic to eggs. We already rarely ate meat (both Moozh and me were vegetarians for a few years), so eliminating dairy and eggs eased us into a plant-based diet. Some people might have similar sensitivities or allergies that can make it difficult to tolerate animal products. (Of course, there are others, like a soy or nut allergy, that can make it harder to follow a plant-based diet. Do what helps you feel your best.)
How to include plant-based meals without raising your grocery bill
Eating and cooking with less meat, dairy, and eggs is a skill that can be tricky to learn at first. This can be especially true if you really rely on meat, dairy, or eggs to provide key macros or nutrition in your diet. Or if your palate is accustomed to meals that include meat, dairy, or eggs — going without can seem less satisfying.
Good news: you don't have to go 100% vegetarian or vegan to get a lot of the benefits outlined above.
Learning how to cook with less meat, dairy, and eggs can give you flexibility to make food purchases that align with your values and ethics, your nutritional needs and tastes — and your budget. I've learned some tips and tricks for balancing taste, cost, and nutrition over 11 years of eating mostly vegetarian and then plant-based.
Eat plant-based once a week, or one meal a day
You don't have to change your whole diet if you don't want to. You can ease into eating more plant-based or meat free meals at first. A great place to start is Meatless Mondays, going without meat for one day or dinner a week. Or, you could try to eat meat-free or plant-based for one meal out of every day.
Something that's also helped me is a principle I learned from dietitian Abbey Sharp: look at this as addition rather than subtraction. Instead of framing these small changes as cutting back on meat, dairy, or eggs — view them as an opportunity to add in more veggies you enjoy or try new foods you've always been curious about.
Start with meals you already love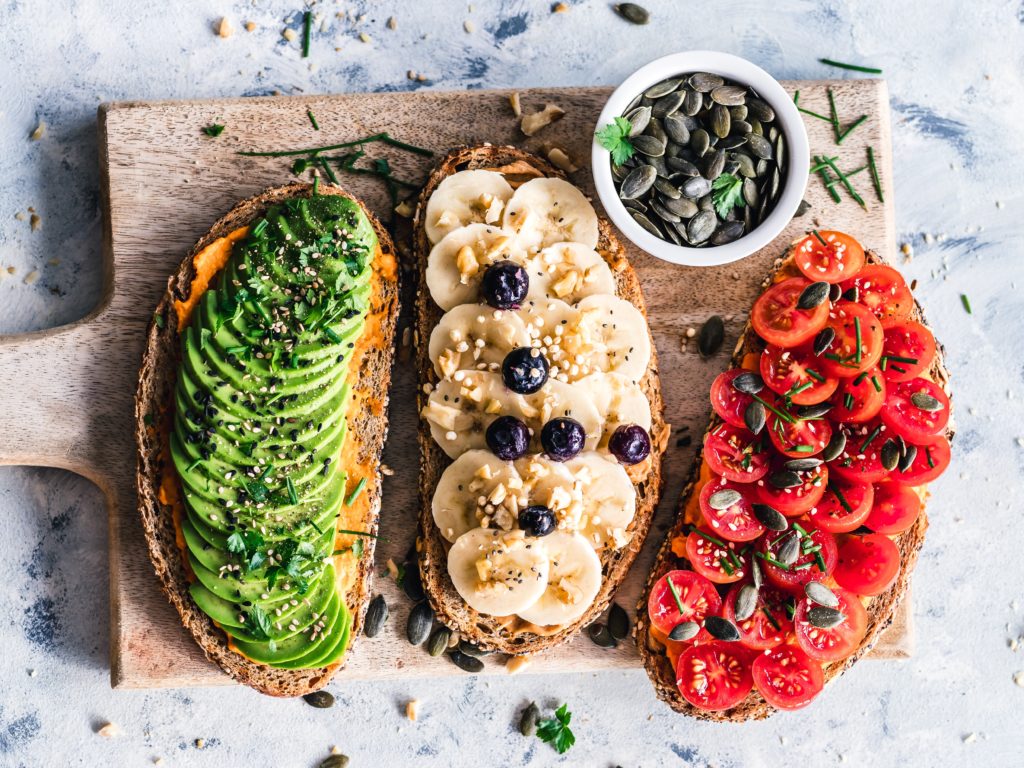 Chances are good that you already have some meals or recipes that you enjoy that are meat-free or plant-based — or could be modified to be so with few variations.
Soups like minestrone and chili are great without meat or dairy in them. Some of my other favorites that were easy to vegetarian-ize or vegan-ize include pasta or spaghetti, nachos or tacos, curry, and stir fries. Or you can tweak breakfast items like avocado toast or oatmeal.
Make plant-based alternatives from scratch
The high prices on plant-based alternative foods can be a real budget killer. Unfortunately, many plant-based alternatives to staples like milk, cheese, and meat will cost more than conventional options. My solution is to include even these plant-based alternatives sparingly, in maybe just a few meals a week.
I also make some of my own plant-based foods as a low-cost alternative, too. I make a killer vegan queso, and have a go-to recipe for an Alfredo-style pasta sauce. Instead of springing for veggie burgers that cost $2 a patty, you could make black bean burgers from scratch can cost just $.43 per serving. Or it might be more cost-effective to make your own oat milk than buy a box.
Try a meal plan or meal kit service
When I first started cooking vegetarian, and later plant-based meals, I was way outside my comfort zone. Following meal plans and using a meal kit service went a long way in helping me level up my cooking skills so that I could be more creative with my food and plan truly satisfying meals.
There are plenty of vegetarian meal plans out there, but my personal favorite is Cook Smarts (note: this is a referral link that will get you 20% off a purchase, and get me a $10 gift card; use it if you want to support this blog, but if not — no sweat). 
Cook Smarts offers a new weekly meal plan with 4 dinners. For each meal, they offer the following dietary options: original, gluten-free, paleo, and vegetarian. The meal plans also include an auto-generated grocery list and suggestions to lower food waste and prep meals ahead of time. The meals are delicious and have definitely helpepalate. It costs just $15 a month, or $90 for a year.
I've also used meal kit services in the past, which have helped me try new recipes in a way that is easy and simple, with no food waste. Purple Carrot is my personal favorite for vegan/plant-based meals that are delicious, healthy, and creative. I've also enjoyed the vegetarian meal options offered by Hello Fresh and Blue Apron.
Learn about plant-based nutrition
As you learn about plant-based nutrition, you can often find high-nutrition swaps that are also more cost-effective. You might opt for high-protein nutritional yeast instead of cheese, for example. And you'll know that tofu is similar to say, grilled chicken, both in protein content and cost per ounce. You can also choose higher-protein options like chickpea pasta or sprouted grain bread to get in the good stuff.
It can also help you watch out for potential holes in your diet, as not all plant-based alternatives are the nutritional equals of their counterpart animal products. While jackfruit is a delicious and popular meat substitute, for example, it has virtually no protein. Being aware of your nutritional needs can help you shift to more plant-based eating while feeling great.
Avoid organic or health food markups
I often watch vegan or vegetarian YouTube videos for meal inspiration, and I've definitely seen some common trends: organic items only, plenty of pricey specialty health products — oh, and putting hemp hearts on everything.
But you don't have to eat like someone else, especially if it doesn't fit your grocery budget. There's no one right or wrong way to eat more meat-free or plant-based meals.
I love health food brands, as they're often among the first to cater to people with specific dietary needs, like vegans or people with food sensitivities. But remember that a label of "healthy," "organic," or "natural" doesn't make it inherently better for you. So don't default to spending more or choosing pricey products because you think you should, or it's what you see others doing. Research and make decisions based on your own information and analysis of nutrition vs. cost.
Bottom line: try a plant-based diet to see if it's affordable for you
In short: eating less animal products and more plant-centered meals can be a rewarding choice, including financially. It can help cut down on purchases of meat and dairy, which can be among the priciest items on your grocery list.
It can also help you cook more creatively and flexibly to take advantage of sales (or even deal with dairy and meat shortages, like the ones we saw earlier in 2020 at the peak of the pandemic panic). Start small and try things out to find the right balance for your own health, tastes, and wallet.
Recommended reading:
Photos by Edgar Castrejon, Maddi Bazzocco, and Ella Olsson via Unsplash