Packing my kids' lunches this morning was a giant pain. It was one of those days where it seemed like we were out of everything.
I managed to put together a decent lunch, with the help of my hubby. But there's no denying we are overdue on grocery shopping.
Luckily, I've put in the work coming up with cheap school lunch ideas already to make grocery shopping easy. Before the beginning of this school year, I created a two-week school lunch menu. It includes foods I know my kids like and will eat.
Budget-friendly 2-week school lunch menu
I wanted to share my secret sauce with the world, so here it is: 10 budget-friendly school lunch ideas.
Each of these cheap school lunch ideas costs just under $1 for the whole meal. The prices I've included were achieved using my tips to save on school lunches. Check out that post for additional ideas for how to pack your own healthy, filling lunches — without emptying your grocery budget.
I've also included a breakdown of the cost per food item included, as well as a grocery list for the full two weeks.
Scroll to the bottom of this post for handy graphics, printables, and spreadsheets for this school lunch menu Please download and use these to simplify your lunch planning and shopping!
Pasta with sides, $0.73 per serving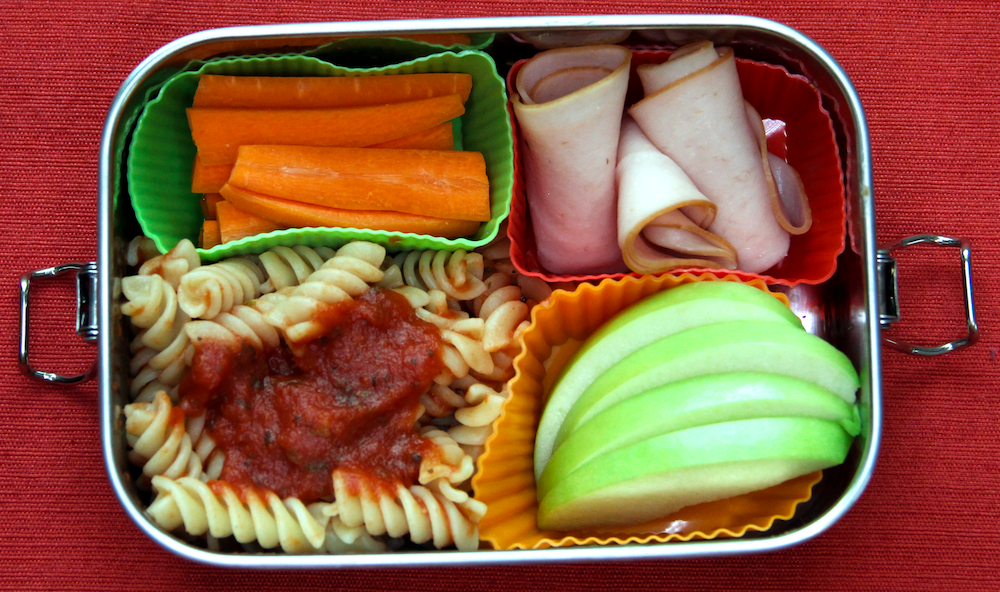 1/2 c. cooked pasta with red sauce, or mac'n'cheese – $0.33
1/4 medium or large apple, sliced – $0.17
1 oz turkey slices – $0.13
1/2 medium carrot, cut into sticks- $0.10
I know what you're thinking: who wants to boil pasta in the morning for their kids' lunch? I don't — which is why I usually pack this lunch with leftover pasta from a dinner or lunch the day before.
If your kid, like my 6-year-old, doesn't like cold pasta, you heat up the pasta or Mac in the morning and put it in a Thermos to keep it warm until lunch. You can also switch out other fruit or veggies you like. My kids love green peas mixed in with pasta, for example, so I'd likely do that and skip the carrots.
Peanut butter and jelly sandwich, $0.83 per serving
2 slices whole wheat bread – $0.21
1.5 tbsp peanut butter or sunflower butter – $0.16
1.5 tbsp jelly or honey – $0.11
1/2 banana – $0.12
1 oz turkey slices – $0.13
1/4 c frozen peas – $0.10
Next is this school lunch staple, the ol' PBJ. Combine the first 3 ingredients to make a sandwich — I included a sunflower seed butter option for kids whose schools are nut-free.
I also weighed out turkey slices to figure out about how many it took to add up to an ounce, and three was the ticket for me. That makes it easy to portion out lunches in the future, without having to bust out the kitchen scale. If you're less concerned about cost or portion sizes, however, you can always just eyeball it.
Tofu and rice, $0.85 per serving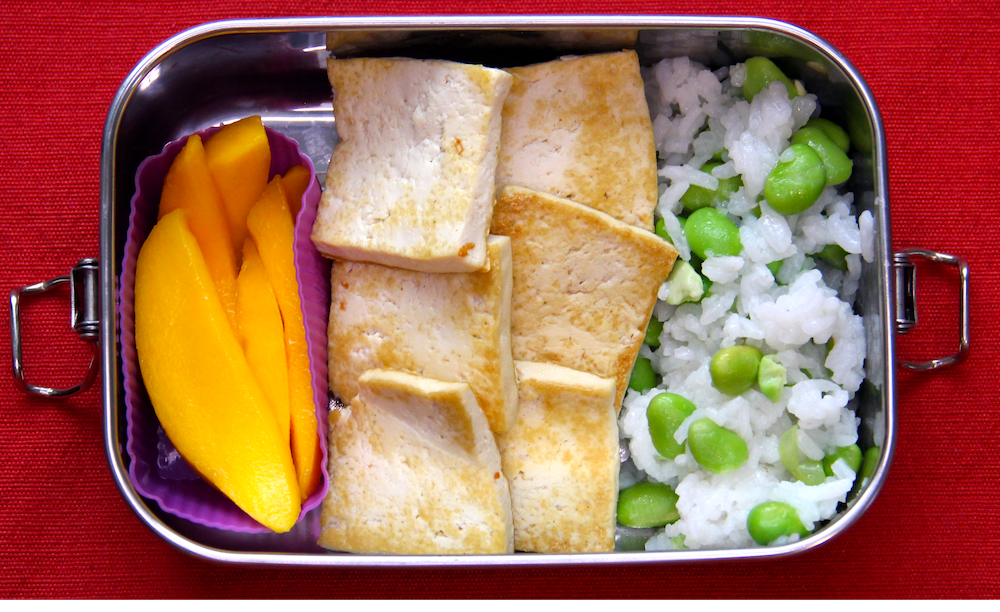 3.5 oz tofu (about 1/4 of a 14 oz block) – $0.37
1/3 to 1/2 c cooked rice – $0.06
1/4 c frozen peas or edamame, defrosted – $0.17
1/4 apple or mango, sliced – $0.25
My husband and I were vegetarians for many years, and we still eat low- or no-meat the majority of the time. So tofu's long been a favorite food in our house, and it's surprisingly kid-friendly. It has a neutral flavor that's easy to season and add to almost any meal. My kids love it fried or raw, sprinkled with a little salt or soy sauce.
Not all kids are going to be up for tofu, I understand. You can easily substitute the same serving size of chicken breast, which is also high in protein and has about the same cost-per-pound as tofu.
Pita and hummus, $0.92 per serving
1/2 whole wheat pita – $0.20
1/2 medium carrot, cut into sticks – $0.10
1/4 cucumber, sliced – $0.17
1.5 tbsp hummus – $0.23
1/3 c grapes – $0.22
This lunch offers a food activity almost every kids loves: dipping. The pita and veggies are all delicious dipped in the hummus.
One cost-related note: I calculated the cost of this lunch based on Trader Joe's classic hummus, which costs $2.99 for a 10-oz container. That's the lowest price on hummus I've found practically anywhere, so it's what I recommend. If that's not an option for you, watch the price, as most hummus will cost more than this.
If hummus is too costly or your kids don't like it, ranch or another dip can be a good option instead!
Eggs and toast, $0.93 per serving
Slice of toast or homemade muffin – $0.21
2 eggs, scrambled – $0.20
1/4 strawberries or 1 clementine – $0.25
1/3 c yogurt – $0.27
Homemade muffins are a breakfast favorite at our house. I like to pack this breakfast-for-lunch option to use up the leftover muffins and add some variety to my lunch box ideas. When I don't have homemade muffins around, a slice of toast works just fine.
Pancakes and peanut butter, $0.94 per serving
2 4-inch pancakes, Kodiak cake mix – $0.40
1 hardboiled egg – $0.10
2 tbsp peanut butter or sunflower butter $0.15
1/2 apple, sliced $0.29
Next is another breakfast-for-lunch option. I like the peanut butter as a delicious topping for the apples and pancakes.
After making pancakes for breakfast, I'll pack a couple away for lunch the next day. You don't have to use the Kodiak Cakes mix — any pancake mix will work. In fact, you can make your own pancakes or pancake mix to lower the cost-per serving by $0.20 or more.
If you do use Kodiak Cakes mix and add in the hardboiled egg, this makes for one protein-packed lunch.
Tuna and Crackers, $.94 per serving
2 tbsp tuna (optionally, mix in a little mayo) – $.15
12-16 saltine or wheat thin crackers – $.29
1 oz cheese, cut into cubes or a stick – $.19
1/2 medium carrot, cut into sticks – $.10
1/4 c. frozen strawberries – $.21
My daughter really enjoys this lunch, and loves to use the crackers to make little tuna "sandwiches" at school. If your kids prefers, you can pack a tuna sandwich instead. If your child's not crazy about tuna, you can opt for egg salad or lunch meat, instead.
Cracker stackables, $0.95 per serving
12-16 crackers like saltines, wheat thins, or ritz – $0.29
1 oz cheese – $0.19
1 oz turkey slices – $0.13
1/4 c apple sauce – $0.17
1/6 red pepper, sliced – $0.17
Lunchables have been the "cool lunch" since I was a kid, and not much has changed. I love this DIY version. Simply pack a stack of crackers along with thinly-sliced cheese and sliced up lunch meat. Your kids can then stack them up and enjoy.
I usually add in a container or squeezer-pack of apple sauce, as well as a veggie — this version includes red peppers but carrots and cucumbers are also tasty.
Quesadilla and beans, $.96 per serving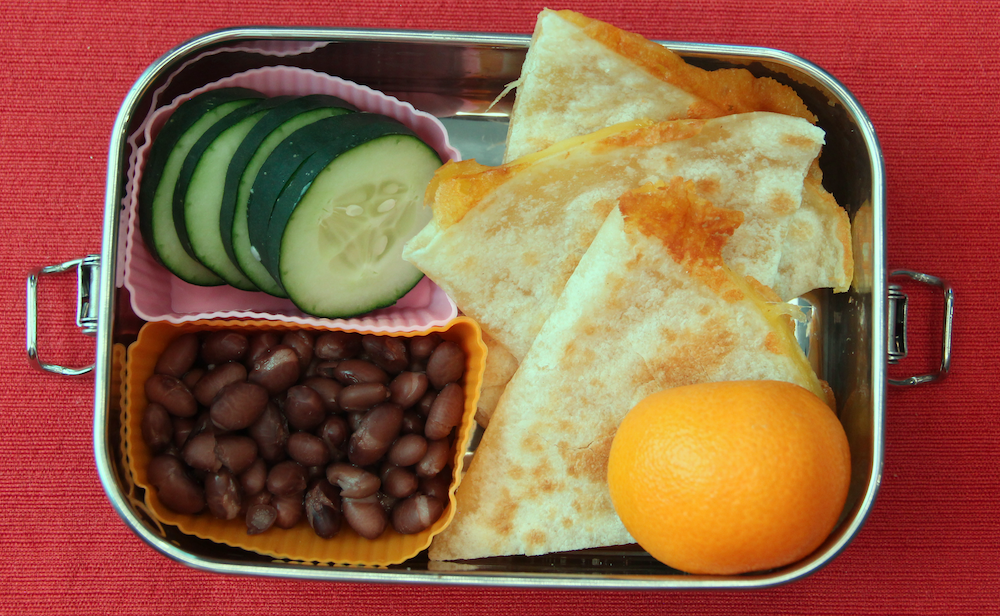 1 tortilla – $0.18
1 oz cheese – $0.19
1/4 c canned beans – $0.17
1 medium clementine – $0.25
1/4 of a cucumber – $0.17
This lunch is pretty simple: heat a pan up in the morning or even fire up the microwave to make a quesadilla. (Random fact, my family called these "cheese crisps" when I was growing up.) Your can throw beans on the side or in the quesadilla, whichever your child prefers.
Watch the size of the mandarins or clementines you have, too. The ones pictured are smaller so I'd probably pack 1.5 for each of my kids, which is in line with the weight I assumed when calculating the price.
Mini pizzas, $0.97 per serving
1 english muffin or bagel – $0.28
1 oz grated mozzarrella or cheese of your choice – $0.19
2 tbsp red sauce – $0.08
1 clementine – $0.25
1/4 c frozen peas – $0.17
These mini pizzas are a delicious, easy option for lunches. Split the muffin or bagel in half, top with red sauce and cheese, and broil them for about 2 minutes to get the perfect mini pizza.
If you don't buy bagels or English muffins to have around the house, you can also use a pita or even French bread, instead.
About these 10 cheap school lunch ideas
Just a few things to keep in mind if you decide to try out this menu…
I'm not a dietician or nutritionist: Please evaluate the nutrition and caloric value of each meal outlined here for yourself. You may need to adjust these meals to suit your child's caloric or other nutritional needs.
These are all portioned out for a child around 6-7 years old, so older or bigger kids might need more food packed. You can double the portions of some items or add 2-3 more items to these to make a lunch appropriate for an older child or teenager. And you should be able to do so while keeping costs under $2 per lunch.
Prices per lunch are just estimates: As mentioned, I used my tips and tricks I previously shared to save money on school lunches. This made it fairly simple to get the prices per serving down as low as I could.
However, while these lunches do reflect what I actually paid for the lunch pictured, food costs will vary depending on where you live, where you shop, and what's on sale or not. So keep that in mind as you're planning and shopping for lunch foods.
This menu is flexible: Additionally, these are just ideas — feel free to replace or tweak these lunches to match your budget and kids' tastes.
One smart option, for example, would be to buy just 2-3 fruits or veggies instead of the many I used here, and switch those out. Or you might opt to just use bread and tortillas instead of going in for pitas and English muffins, as well.
Download this school lunch menu
I've included links to the menu on google spreadsheets below as well as printable PDFS in this post, just below!
Here's a google spreadsheet with the complete kids' lunch menu and a grocery list to go with. You can easily make a copy of this spreadsheet and edit it to customize the menu.
Below, I've also included downloadable PDFs of the menu, coordinating grocery list, and the menu with prices for each item. Click the thumbnail of each to see and download the PDF file for each.